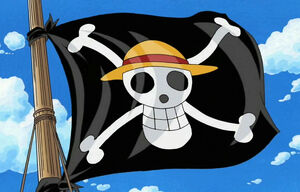 Jolly Rogers(Pirate Flags) generally help pirates determine who belongs to whose crew, or even who is a pirate in the first place. Many choose to bear their crew's flag somewhere on their personal being.
However, raising the jolly roger is considered a huge crime by the Marines, and anyone seen doing so (may it be fun or for real) will be considered criminals. The designs of the jolly roger usually reflect the interest of captain of the crew. Other times it may be physical resemblance (Whitebeard's mustache or Shanks's three scars on one eye), a personal item they wear (Luffy's straw hat), or the symbols behind them.
ALL PIRATE CREWS MUST HAVE A PIRATE FLAG
Ad blocker interference detected!
Wikia is a free-to-use site that makes money from advertising. We have a modified experience for viewers using ad blockers

Wikia is not accessible if you've made further modifications. Remove the custom ad blocker rule(s) and the page will load as expected.